At GOOSE Recruitment, we take pride in the success and ambition of our employees. We caught up with Charlotte Charman, a Lead Consultant to hear about her successful pilot and aviation recruitment career.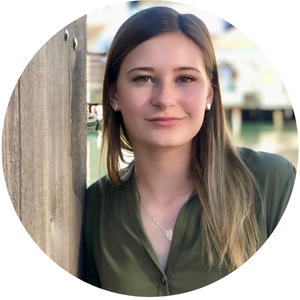 ​
When did you begin your career with GOOSE?
My recruitment career started with GOOSE Recruitment in 2018, after I left sixth form college. I was eager to kick start my professional career and get into the working world. My first role at GOOSE was a Pilot Talent Specialist, then an Aviation Account Executive, and I am now proud to be a Lead Consultant.
You have been a part of the business since it was established, seeing the business evolve to where it is today – what skills and knowledge have you learnt along the way?
I have learnt so much, just by being a part of the team since we launched. Even when you think you know everything, you realise that there is always more to learn and continuously progress.
However, the core skills that I have adopted since joining the business are people skills, customer service skills, and teamwork.
Having the ability to communicate with our clients and candidates from across the globe, in a personable and clear way is the key to success and providing excellent service. When it comes to teamwork, even though you have your objectives, it is important to support one another when needed. Every team member can offer something unique, be that extensive industry knowledge or suggesting great candidates.
I believe my knowledge both of recruitment and the aviation industry has come from my dedication to learning about the industry. Also, by speaking with aviation professionals every day, you soon gain knowledge very quickly.
What qualities do you think every recruitment consultant needs to be successful?
A big factor of success comes from the willingness to learn, listen, and ask. This is the only way you can progress and stay updated on the latest industry trends.
We have an outstanding training programme across the business, so taking advantage of that will serve you well when it comes to the success of your career. You get out what you put in and having the qualities of drive and determination will push you out of your comfort zone and closer to success.
Being confident is also key; demonstrating your knowledge and expertise as a specialist recruitment consultant plays a huge factor in establishing long-lasting client and candidate relationships.
Lastly, learning the basics of recruitment and how to be personable will go a long way.
You have been a part of several industry events with GOOSE, do you have a favourite event that you have attended?
We have attended many industry events over the years but Pilot Expo Berlin - an event for experienced pilots and aspiring future aviators is up there as one of my favourite events. It is so vast and having the opportunity to travel to Germany to promote the GOOSE brand was great. We met so many like-minded people, as well as many of our candidates. A lot of pilots and airlines recognised us which was fantastic.
What is your most memorable experience with the business to date?
Supporting some of the most globally recognised aviation businesses in securing top talent into their teams has been memorable but I would also have to say my promotion to Senior Recruitment Consultant. It was such a milestone for me to be recognised across the business for my work and successes. It was announced at our annual awards ceremony and I was so proud of what I achieved.
We have also reached a record number of clients and it is amazing to see the hard work and determination that we have all put in as a team, come to fruition. It has been a challenging few years for the entire industry but we have an established recruitment team that has managed to keep on persevering and our successes have shown this.
How would you describe the company culture?
GOOSE is a respectful, fair, warm, friendly, welcoming, and inclusive team. We have a huge emphasis on teamwork, offering support when needed. We all care about the GOOSE brand and are ambitious in everything we do within our roles.
What advice would you give to someone wanting to pursue a career in recruitment, specifically aviation recruitment?
Having a passion for your role and the aviation industry is important. As a recruitment consultant, you need to be prepared to put in the work, putting in your own time and being flexible when it comes to your working day is important. Whether that be coming in early or staying late to talk to a client or candidate overseas.
Google will be your best friend. When you first start, you will feel like you do not know anything but there are countless resources and forums available to learn about aviation.
Building your network and establishing good relationships is one of the most important factors to get right. Your network is attributed to the success of the clients and candidates you work with, and you will learn so much from them.
How do you see your role at GOOSE evolving?
I know that we will become the number one recruitment firm in aviation. We are working so hard towards it, and the brand has grown considerably since it started but I am excited to see it evolve even further.
We have big ambitions to expand our team and have the right people to take us to the next level.
What advice would you give yourself if you could go back to your first year in recruitment?
Focus on your long-term career plan. Short term gains are great but just know that all the work that you put in will always pay off. You will get there, even through the challenging times. Stick to it because it will make you more resilient and a better recruiter.
​
If you're interested in a career with GOOSE, please get in touch by filling out the form below.
​
​
Top 10 people in demand in the aviation and airline sectors
In the ever-evolving aviation and airline sectors, the demand for top-tier talent continues to shape its trajectory. As we navigate the dynamic currents of this year, it's time to cast a spotlight ...
Exploring the Aviation Jobs Market
In the dynamic world of aviation, the demand for skilled professionals varies across operational roles such as pilots, cabin crew, and maintenance personnel. We delve into the current state of the ...
The MRO & Engineering Employment Survey Results Revealed
The aviation and airline sectors are continually transforming in line with market influences and customer needs. As the talent market in MRO and Engineering becomes increasingly complex, aviation b...
How to create your Employer Value Proposition (EVP)
​In a candidate-led market, standing out as an employer of choice in a competitive marketplace is probably one of your top priorities right now. How can you differentiate your business? What can yo...
Aviation Recruitment Market Update
Listen to this insightAs we progress into 2023 people strategies have continued to dominate conversations in aviation. We remain focused on monitoring the trends in the employment and recruitment o...
Results from The Pilot Survey 2023
Download The Pilot Survey 2023The past five years have been marked by significant ups and downs in the aviation sector. A period of exceptional activity was followed by the worst crisis the indus...
​Aviation events to attend in 2023
2023 is set to be one of the greatest years for events taking place across the diverse world of aviation. We attended some extraordinary events in 2022, but in 2023, we look forward to picking up t...
​10 signs you are ready for a new aviation job in 2023
The start of the new year is the perfect time for a fresh start. What better way to kick off the year than by securing a new job? How do you know if you are ready to make the move? As global people...
5 ways to set your new hire up for success
​Despite common misconceptions, the hiring and onboarding process doesn't end once your new hire has joined you. It's not just the first day, or even the first week that is fundamental in ensuring ...
Fail to prepare, prepare to fail
If you are a hiring manager or leader and succession planning is not the top talking point of your people strategies, you are not alone. Yet, in an ever-changing marketplace, I am becoming a strong...
Adrian Keating – Norse Atlantic Airways – Vice President Job Profile
​We last spoke to Aviation Professional Adrian Keating in 2020, when he was the Commercial Director of Air Transat. Since then, Adrian has gone on to become the Vice President of Sales, Marketing &...
How and why upskilling can improve career growth in Aviation
We live and work in a time where job security no longer comes from being employed, but from being employable. So, how do you remain employable in today's fast-changing aviation sector?Well as the A...