At GOOSE Recruitment, we recently had the pleasure of speaking with Lara Murphy, a Senior First Officer for a South African airline. Having had an interesting pilot career, flying both cargo and passengers, we wanted to catch up with Lara to uncover what led her into her career and find out the differences she has experienced in her different flying roles. Lara, how long have you been flying?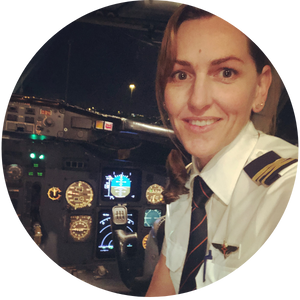 All in all, I have been flying for 17 years. I started training for my Private Pilots Licence (PPL) in 2003 in Cape Town, South Africa and continued my training by completing my multi-engine instrument rating and have never looked back.
When did you decide to pursue a career in aviation?
I have wanted to be a pilot since I was 10 years old. A family friend owned a helicopter and I was absolutely fascinated by it. After taking a flight in one, I knew that I wanted a career in the sky. I focussed on studying subjects at school that I knew would help me towards a flying career.
What was your first flying job?
It is tough to get your first break in a professional flying job and after much searching I found some seasonal summer flying work. This made it much easier to find longer contracts and in my next job, I started flying a Piper Cherokee VI, Piper Aztec and a Piper Chieftain for African Ramble Air Charter. We would do charter flights along the coast and into game reserves for tourists visiting the area.
Have you had experiences flying in other countries other than South Africa?
Yes, I have had the pleasure of flying in many different countries. I've flown in Jordan, Afghanistan, Pakistan and Iraq to name a few.
Have you had any stand out flying experiences?
I spent three years flying for Elite Jet, a medical evacuation company on Learjets, Hawkers and Citations. I worked with a medical crew and we travelled across Africa picking up patients to take them to different hospitals. It was an incredible experience and I met some amazing people. One day we would be flying a premature baby and mother, another day it could be burn victims and another a car crash survivor.
We did this mostly at night, which means you have to be at your best. Many airports in Africa are closed at night and there is little help available if anything goes wrong. I learned a lot from this flying experience and also made some great friendships.
When did you first start flying B737s?
In 2014 I was accepted to start working for Comair Limited and started my type rating. First on the 800 and then the 300 and 400. Comair operates scheduled services on domestic and regional routes as a British Airways franchisee. I flew with some incredibly talented and experienced pilots and learnt a lot from them. I got to fly to some beautiful places doing what I loved on the B733, B734 and B738.
You are now flying predominantly cargo, what are the key differences between flying passengers?
I think that the key difference is the feeling of pressure when flying passengers. Unfortunately, delays do happen. Passengers can be quite stressed already once they get on their flight. They have had to travel to the airport, go through security, sort their baggage and wait for their flight. If we then get a delay, they can feel even more stressed, especially if they have a connecting flight they need to make.
I have really enjoyed flying passengers though, and the dynamic of working with the cabin crew is great too.
What is the worst part of cargo flying?
Cargo flying is done at night and so it can get tiring. You can be working shifts from 9pm until 4am for example. You do get used to it and but you have to be focused as there is much less support available when flying at night.
What would you say the best part of cargo flying is?
Flying at night is incredible. The skies are so clear. With passenger flights grounded at the moment amid the pandemic, there is even less air traffic. You have direct routes and you just feel so relaxed flying through the open skies.
A huge thank you to Lara Murphy for taking the time to speak to GOOSE about her career as a pilot.
GOOSE loves to talk to Aviation Professionals from across the world
Follow GOOSE Recruitment on LinkedIn, Facebook and Twitter for the very latest aviation news, updates, exclusive insights and regular hot jobs.
​