GOOSE Recruitment loves to talk to aviation professionals from all over the world to learn about what they believe it takes to pursue a career in the aviation industry. We recently had the pleasure of talking to Steph Smith, to uncover some fascinating insights into her career as an Aircraft Engineer.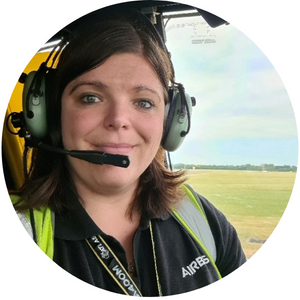 How long have you been working as an Aircraft Engineer?
My aviation career started in 2009 when I graduated from the Newcastle Aviation Academy with a foundation degree in Aircraft Engineering. I went on to complete my Bachelor's Honours degree in Aircraft Engineering at Kingston University, graduating with a First-Class Honours. Later, qualifying as a B1 Licensed Engineer in 2015, whilst working on the 787 at British Airways. The 787-8 and 787-9 at British Airways were the first B1 type approval on my licence.
What led you to pursue a career in engineering and why did you follow the aviation route?
Aviation is in my blood. I eat, sleep and fly. My father was a Paratrooper and he was very passionate about aviation, so I have inherently loved aviation from a young age. I spent my entire childhood growing up on an airfield and I have been around aircraft my whole life.
Historically STEM (Science, Technology, Engineering & Maths) industries have found it hard to attract females, do you think there are any barriers to entry? Do you think this is a reason why females are not attracted to a career in engineering?
Personally, STEM subjects were never something I was exposed to at school and I was always discouraged from participating in them. In fact, one of my tutors would insist on doing the girls' 'resistant materials' coursework for them, can you believe it? I wanted the chance to learn, so I started writing the name Steve on my work.
Going into my career I noticed that engineering jobs were taken based on gender, but this bias has always been something I have refused to accept.
Have you personally been involved in promoting STEM subjects and careers to women?
I am actively involved in a lot of STEM outreach work. I'm an ALTA mentor and a member of the British Women's Pilots Association, which is an organisation that exists to support women who fly or who are learning to fly and to encourage participation in aviation by women who have yet to try it.
I have taken on a marketing role to promote the Women's World Gliding Championships 2022 and previously during my career with British Airways, I took on a role as an Apprenticeship Ambassador. In this role, I definitely saw an increase in more females coming through.
Encouraging women to pursue a career in engineering/aviation is something I am extremely passionate about. It is time to start encouraging aviation as a career, not just a hobby.
Was engineering your first career path?
Yes, it was. I always knew it was what I wanted to do, so I was very focused. My first job was with British Airways as an Aircraft Mechanic and I progressed through the ranks with BA for the next eight years, but I now work at RAF Brize Norton as an A400M Line Maintenance Engineer.
What is the most rewarding part of your job?
At present, it is having the ability to make a real-world impact and participating in civilian aid. As we face a global pandemic, my squadron and I at RAF Brize Norton have been helping to transport COVID-19 patients to hospitals in the A400M. One patient took the time to reach out to our squadron after he had recovered, to thank us for saving his life and getting him to the hospital. It reaffirmed why I do what I do.
What is the most challenging part of your job?
Having previously worked for British Airways in a more civilian environment and later changing my career to what I do now, working at RAF Brize Norton in a military environment was a big adjustment. There is such a disparity between attitudes and behaviours, but you must learn to adapt quickly. My priority is ensuring that things get done safely and on time.
What are the top three skills you believe it takes to be a successful Aviation Engineer?
Firstly, communication because it is the key to engineering and essential when working in a team. An engineer's job relies heavily on working collaboratively and you need to feel comfortable voicing any concerns. If you cannot it becomes a safety issue. Plus, you work with people from all over the world and people who learn differently. Not everyone is technical, so it is about being able to communicate with others effectively.
Secondly, you need to think on your feet, and you need to think fast. Plans can change so quickly, for instance, a route might change and that changes the time pressure you have to complete a certain job.
Lastly, you need to be willing you learn. The aviation industry is forever changing and so will the things that you need to learn. A career in aviation engineering is a long-term commitment.
What aircraft have you worked with?
I have worked with a variety of aircraft, which has allowed me to learn so much. Each aircraft has its technologies, and everything is different. At British Airways I worked on the Boeing 777-200 and 777-300, and on a Friday I helped on the Boeing 767 & 747. It was great.
Currently, I am working on the Airbus A400M as a Line Maintenance Engineer at RAF Brize Norton in Oxfordshire, England. This position required a 12-week type-rating course, which was a steep learning curve.
Where do you see your career taking you in the future?
My long-term plan is to go into aircraft accident investigation, which consists of examining what caused an accident and how it can be prevented in the future. The engineering behind this fascinates me.
What is your advice for aspiring engineers?
Reach out to airlines and companies even if you are not actively looking for an opportunity. It is often a case of who you know in the industry, especially as a lot of businesses do not advertise their vacancies.
Ensure you are continuously networking and engaging with engineers and aviation professionals, which you can do through groups on LinkedIn. Also, research specialist aviation courses and ensure you never stop learning.
Finally, never let anyone tell you that you are not capable. Try before you decide to give up on your dreams.
GOOSE loves to talk to Aviation Professionals from across the world
Follow GOOSE Recruitment on LinkedIn, Facebook and Twitter for the very latest Aviation news, updates, exclusive insights and regular hot jobs.
​