At GOOSE Recruitment, we take pride in the ambition and success of our employees. We caught up with Brianna Da Rosa, Aviation Recruitment Consultant to hear about her recruitment career.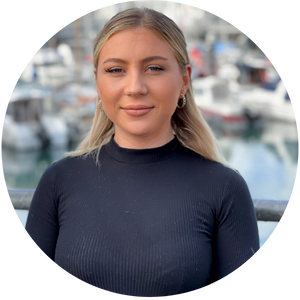 ​
What does your role involve at GOOSE Recruitment and how has it evolved since joining the business?
My role involves recruitment for MRO & Technical Services teams in aviation businesses, including Engineers, Technical Managers, Technical Directors and more. When I first joined GOOSE, I was supporting with a broad range of aviation roles, but now my role has become much more specialised, which I love. Focusing on one specialism within aviation recruitment allows me to provide my clients and candidates with expertise. I've also taken on a lot more responsibility over the past year, which is really rewarding.
How do you see your role evolving in the future?
I am currently working towards a promotion of Senior Recruitment Consultant, and one day as we continue to expand the business, I would love to support in managing a team. Even if that is a long term goal, I hope to see my role evolving in that direction.
That's what is so great about having a career with GOOSE, there are clear progression paths and you have the opportunity to reach your goals if you put in the work and have the determination and ambition to get there. It really is a career, not just a job.
What do you enjoy most about working in the aviation industry and at GOOSE Recruitment?
The aviation industry is great because it is always changing and evolving. The candidates that you get to work with are so interesting and everyone has a unique story to tell. Aviation is an industry that people work in because they are passionate about it and I think that is what makes the industry so unique.
Working at GOOSE Recruitment is enjoyable because you have the opportunity to work within a close-knit team with fantastic workplace culture. I have big ambitions for my role and I feel supported and encouraged to reach them. We are a young brand, part of an established recruitment business and we work in a different way to many recruitment companies. We have a consultative approach, dedicating time to thorough headhunting and networking. I believe that is a large component of our success, along with our strong brand reputation.
How do you think a recruitment consultant can add value to an aviation business?
At GOOSE, we make it a priority to ensure that we are putting the right people into the businesses that we partner with. We aren't just looking to fill jobs; that is not our ethos. With the industry gaining momentum again, candidates have more options and can be more selective about their careers. We make it our priority to match based on behaviours, culture and values.
Our genuine passion for what we do, along with the human skills and industry knowledge that we hold can be invaluable to many aviation businesses.
What is one important lesson that you have learnt in your career to date?
To not let the bad times get you down. I have had candidate rejections and clients deciding they are not going to proceed with the role at the very last minute. For the first three months in my role, I found this challenging but you soon learn to be resilient and manage processes more efficiently and not let these situations impact the rest of your day. There are always more opportunities, you just need to be on top of your game.
What skills do you think are required to establish a successful career in recruitment?
You need to be adaptable because when you are speaking with clients and candidates, who you have never spoken to before, you cannot predict people's personalities or ways of doing business. We work with many international aviation businesses, each with its own culture, so it is important to be mindful of this.
You also need to be able to handle objections because there will be a lot of those in recruitment. Having a thick skin plays a huge part in this, along with not being afraid to ask questions.
Are there any challenges that you have faced in your role and how have you overcome them?
Guiding professionals through the recruitment process promptly can be challenging because everyone has different expectations. For example, we may have the perfect candidate for a role but sometimes the timings from either side don't work out and this can be challenging to manage. However, with experience, you become more equipped with overcoming these challenges and finding solutions.
How have you implemented the learning and development that you have received into your role, and would you attribute this to any success that you have had?
It sounds simple but the training has helped me put the theory into practice. You come away from a training session knowing that there is an answer for everything. There is a lot to take in but the training and development that we have received helps us to be great recruiters and successfully build strong lasting relationships. I would attribute this to a lot of the success I have had because, without this fundamental knowledge, recruitment can be a minefield.
What has been the most valuable piece of advice that you have received, that you would offer to someone else?
Don't take things personally. You cannot control everything but as long as you are using your toolkit, being authentic and putting in the work, you will get to where you need to be.
​
​
If you're interested in a career with GOOSE, please get in touch by filling out the form below.
​
​
Top 10 people in demand in the aviation and airline sectors
In the ever-evolving aviation and airline sectors, the demand for top-tier talent continues to shape its trajectory. As we navigate the dynamic currents of this year, it's time to cast a spotlight ...
Exploring the Aviation Jobs Market
In the dynamic world of aviation, the demand for skilled professionals varies across operational roles such as pilots, cabin crew, and maintenance personnel. We delve into the current state of the ...
The MRO & Engineering Employment Survey Results Revealed
The aviation and airline sectors are continually transforming in line with market influences and customer needs. As the talent market in MRO and Engineering becomes increasingly complex, aviation b...
How to create your Employer Value Proposition (EVP)
​In a candidate-led market, standing out as an employer of choice in a competitive marketplace is probably one of your top priorities right now. How can you differentiate your business? What can yo...
Aviation Recruitment Market Update
Listen to this insightAs we progress into 2023 people strategies have continued to dominate conversations in aviation. We remain focused on monitoring the trends in the employment and recruitment o...
Results from The Pilot Survey 2023
Download The Pilot Survey 2023The past five years have been marked by significant ups and downs in the aviation sector. A period of exceptional activity was followed by the worst crisis the indus...
​Aviation events to attend in 2023
2023 is set to be one of the greatest years for events taking place across the diverse world of aviation. We attended some extraordinary events in 2022, but in 2023, we look forward to picking up t...
​10 signs you are ready for a new aviation job in 2023
The start of the new year is the perfect time for a fresh start. What better way to kick off the year than by securing a new job? How do you know if you are ready to make the move? As global people...
5 ways to set your new hire up for success
​Despite common misconceptions, the hiring and onboarding process doesn't end once your new hire has joined you. It's not just the first day, or even the first week that is fundamental in ensuring ...
Fail to prepare, prepare to fail
If you are a hiring manager or leader and succession planning is not the top talking point of your people strategies, you are not alone. Yet, in an ever-changing marketplace, I am becoming a strong...
Adrian Keating – Norse Atlantic Airways – Vice President Job Profile
​We last spoke to Aviation Professional Adrian Keating in 2020, when he was the Commercial Director of Air Transat. Since then, Adrian has gone on to become the Vice President of Sales, Marketing &...
How and why upskilling can improve career growth in Aviation
We live and work in a time where job security no longer comes from being employed, but from being employable. So, how do you remain employable in today's fast-changing aviation sector?Well as the A...